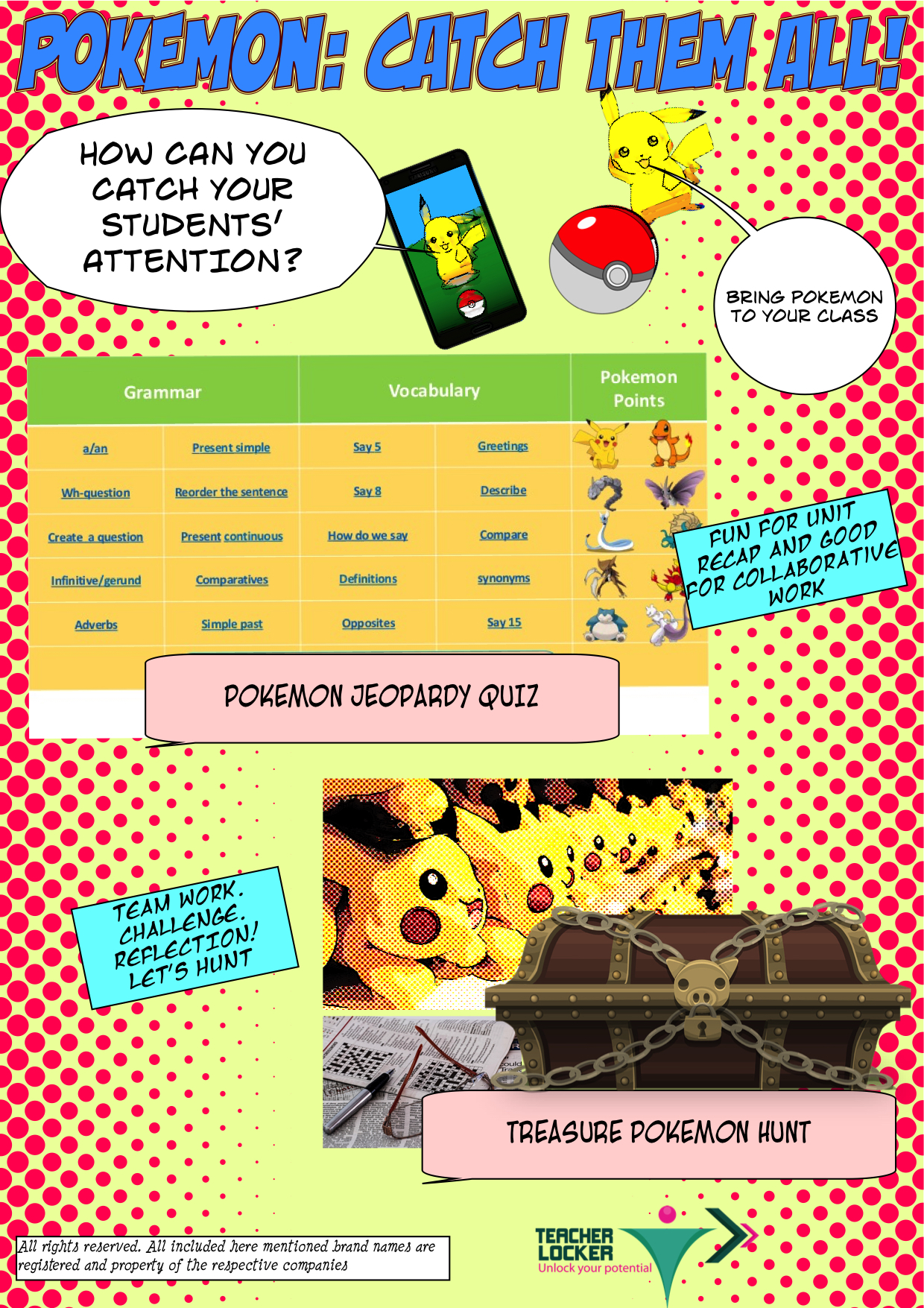 How to use Pokemon Go in the classroom
Pokemon Go Mania : Catch them all!
The world is getting crazy about Pokemon Go! Everyone is setting up Pokemon accounts to become Pokemon trainers. Being a teacher trainer and not a Pokemon trainer yet, here's my perspective on the phenomenon. I have seen my students, my neighbours, my friends and strangers working all together to hunt these little virtual creatures. I have seen people getting out of their house, talking to one another, sharing tips and most importantly going to places they would never have gone to before. So, even if Pokemon Go has its detractors, let's face it, it is a global phenomenon that could have some positive effects in our classes. Here are some easy-to-use ideas to spice up your classes by bringing up Pokemon into your class to create motivation and collaborative works among your students. All these resources here are not augmented virtual activities but easy activities made of paper or powerpoint! Because let's face it: not all our students have access to the latest smart phones but EVERYONE should be given a chance to experiment some of the new phenomenon and to help you getting some idea here ow to use Pokemon go in the classroom.
The classroom Pokemon hunt
Print a set of Pokemon characters. Cut them out. At the back of each character, write a word related to the topic you are teaching. Fold the papers. Hide the papers in your classroom. Have the students to hunt the Pokemons! Once back to their seats they unfold the paper. They need to have their partner guess the word written at the back of the Pokemon by giving some definitions or synonyms. To make it more challenging you can also adapt this version with a taboo activity. It is fun, requires very little prep' and it is a good warmer activity to review vocabulary.
The Treasure Pokemon hunt
Here's a variation of the treasure hunt. It requires some preparation beforehand considering that hints/riddles are hidden on the school campus (or in the town if you are an adventurer). Prepare riddles based on your topic. Divide your class into teams. The key to these riddles should bring students to certain spots. Students need to work collaboratively to find the answers to the riddles. At each spot put a cuddly Pokemon toy and a new riddle. The team that has collected most toys wins!
The Pokemon Jeopardy quiz
Prepare a quiz for a Unit review in a jeopardy format. Divide your class in teams. Instead of money, offer Pokemon rewards. For each correct answer the team receives the Pokemon reward. It can be cuddly toys, pens, cards etc. anything related to the Pokemon mania! The quiz is organized in such a way that it is progressive. The easiest questions are at the top with the low-level Pokemons. The most difficult ones are at the bottom with high-level Pokemons.
Any more ideas? Are you a teacher and also a  trainer Pokemon go ? Let me know your though on this….