How to make lesson observations less stressful
Having recently observed a trainee teacher I thought it could be good to see what should be avoided at all cost in a classroom. I am usually not a big fan of lesson observations as they put a lot of pressure on the teachers' shoulders and they can be felt as a bit patronizing. However, lesson observation can be a great tool to improve on our practice if we step back and analyse on how things could be improved.
Let's be honest, we all have our ups and downs and some of our lessons can turn up to be real disasters if we don't plan carefully. That is what happened to this trainee teacher and this is how he could have turned his lesson into success.
Here are some steps to turn your lesson into a success.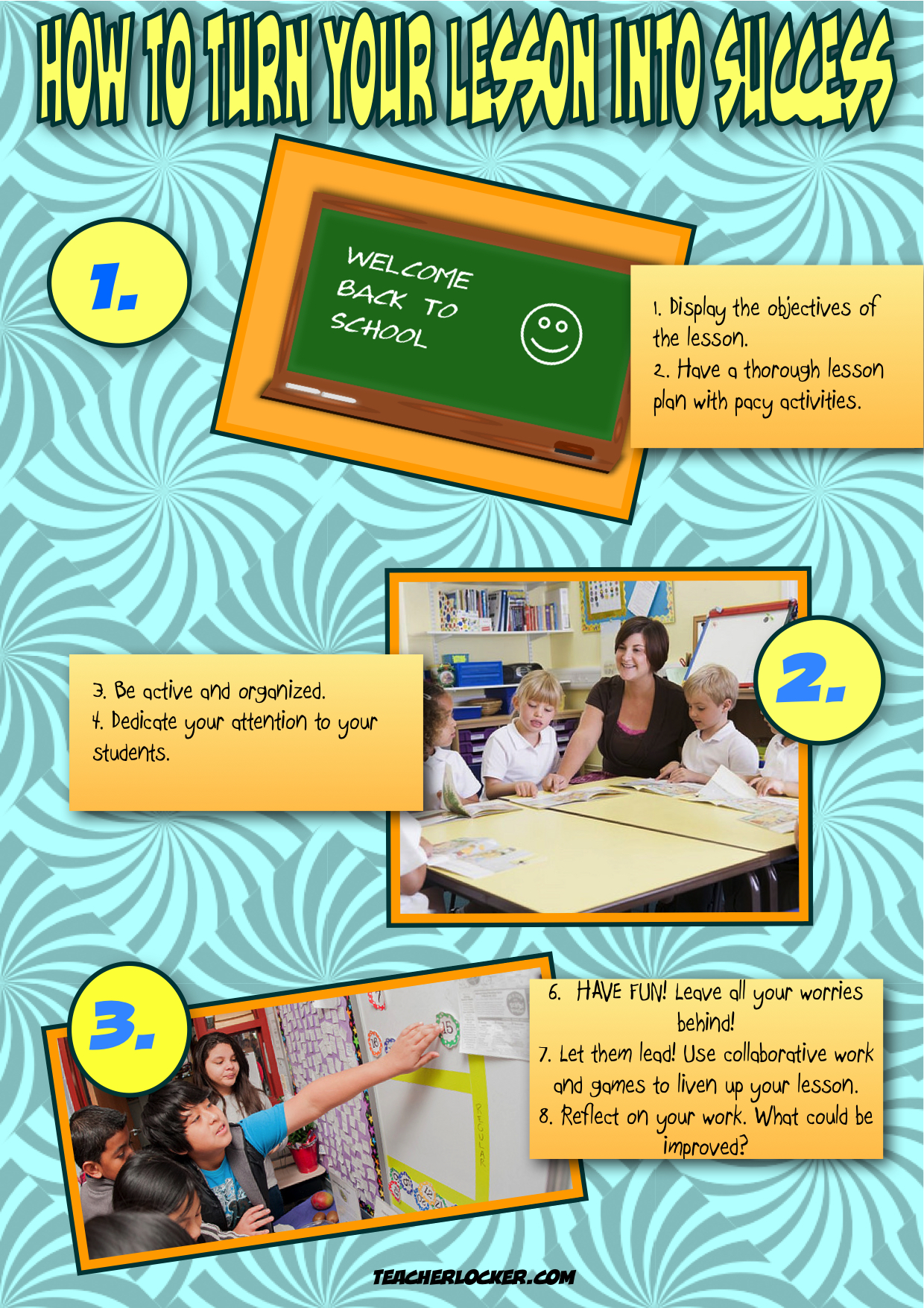 First of all, teachers need to display the objectives of the lesson on the board so that students know what they are about to learn. That may sound obvious to most of us but that is not the case for everyone. Having clear, measurable objectives with differentiated targets is vital to engage students in their own learning.
Then the best way to actually have students on board is to create pacy activities suited to your learners' needs. And these activities need to be embedded in a clear progressive lesson plan. Any outstanding teacher will tell you one thing: A lesson plan with detailed objectives, a progressive structure from teacher-led to student-centered work will give you 90% chance to make your lesson a successful one. Think about the level, abilities, learning styles and behaviour of your students. Would pair, group or individual work be more suitable and why? You could as well script your lesson plan. In other words write down everything you are going to say in your lesson. That is a big help when you start teaching.
Be organized. Have your material ready and differentiated. You can have the best material in the world but you fail to engage all your students, your lesson is likely to turn into chaos. How about having a worksheet with different activities that would challenge each and everyone of your students? Your board as well must be organized. Put your objectives in one place –top left for me, use a corner for recording achievements, use different colors according to what you are teaching.
Focus on your students' work. Developing a good relationship with your students is important and it has to be genuine. Circulate around the classroom and get feedback on how they are doing and if they need extra support. If you are in your first year as a teacher, you will soon realize that your chair is an accessory you won't use that much!
Be consistent. Praise the work they are doing but be consistent as well in the way you deliver sanctions if any are needed to reinforced behaviour management. Even low disruptive issues need to be addressed to avoid this becoming a pattern.
Have fun. Use humour, smile, create empathy and be creative in the use of your material. Avoid using just textbooks but rather make a wide use of technology and have quick games that will challenge them and create more interaction in class avoiding the boredom of a lecture.
Let them lead. That's certainly the most difficult part in teaching but to make sure that learning is happening, you have to let your students do the work on their own.
Be patient and self-critical. We may be impatient or frustrated when we don't see immediate results in our student's learning but this may mean that they need more time to acquire knowledge or maybe that the lesson was not adapted to their needs. In any case, analyze your own lesson. What went well? What went wrong? How could it be improved for the next time?
These tips should help you avoid disaster in class and you should make lesson observations less stressful. So, just get started and let me know about your success in class!