How to create Unit plans: a step-by-step explanation
Teaching can be a really fun experience, but where do we start?  We are always tempted to start by the fun part of it like designing resources or actually teaching. However the first step to consider is creating Unit plans. Let's face it, that's probably not the funniest part of the job but that is certainly a crucial element of teaching if we want things to work in class. Unit plans are like a mind-map for teachers. It is a necessary tool to help us plan lessons that will develop our students' learning and help them reach their goals.  You should start your unit plans with easy questions in mind:
What topic I am going to teach and why?
How does it fit in my module/unit?
What are my teaching objectives?
What do I want my students to learn and achieve?
How can it be progressive and well-sequenced?
What assessment tools can I use for AFL and AOL?
Which material should I use to serve my purpose?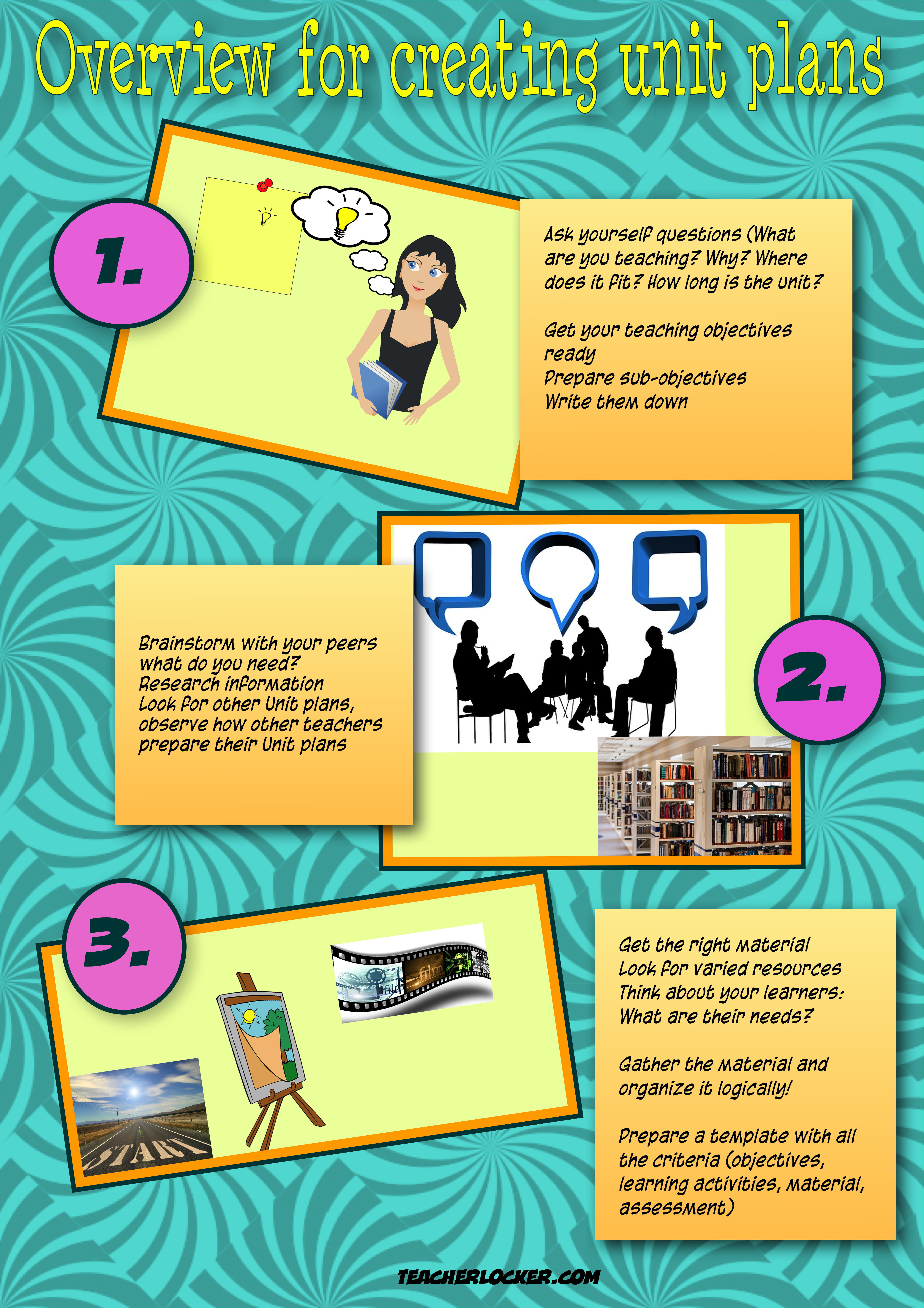 If you are able to answer these questions, then you are ready to get started. Do not underestimate the importance of Unit plans as they will guide your teaching and avoid achievement gaps in learning. So what do we do now?
Think your Unit plans as a puzzle where objectives will be your top one priority. Define general objectives to be taught over a certain period of time and then define sib-objectives that will help you with your day-to-day lesson planning.
Once you have clearly defined your teaching objectives, think about where this fits in your curriculum. Your units have to be progressive and logical. Make sure you know your students' prior knowledge to ensure effectiveness in their learning.
Gather material that will be necessary to teach for your units. Using a textbook is good but absolutely not enough. To adapt to your students' skills, abilities and learning styles, use a wide variety of resources. You will need some time here to research resources that will serve your teaching objectives. Read articles about the units you are preparing. Observe other unit plans that have been done by others. Select resources that you can easily adapt to your students' needs.
Do not underestimate the use of authentic resources and technology. Create motivation and challenge through resources that will inspire all your students. Browse online resources that could be used in class or as projects outside the classroom.
Once you have your material, organize it to prepare learning activities that will instill curiosity and challenge all your students.
Differentiation is key in the teaching-learning process. So you should include a section in your schemes of work that focuses on differentiation in terms of learning styles, abilities, needs etc.
How do you assess the learning? In two ways: You need to use assessment for learning and assessment of learning. Create a section in your unit plans that will mention these. The assessment for learning should be embedded in your everyday teaching. For the assessment of learning this could be done at the end of the unit through formal assessments like tests or quizzes.
Time is key in planning Unit plans. Be realistic. You certainly won't have time to teach everything you want so be ready to be flexible and add a couple of extra lessons in your Unit plans to make sure you get the right balance of teaching-learning-assessment.